Charles Albert Walhain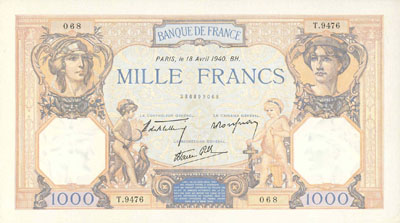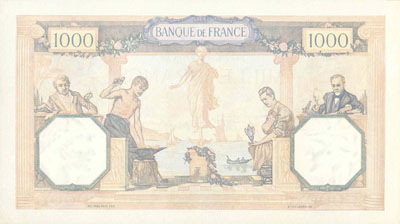 Charles Albert Walhain (French, 1877-1936) received the gold medal for French Artists in 1936.
Walhain is probably best known for his artwork for the 1927 Cérès et Mercure issue from Banque de France. This note was produced hurriedly to replace the 1000F Rose et Bleu banknote of 1889, which needed to be removed from circulation due to forgery. Theis banknote was not particularly beautiful, compared to most other French notes of the era, and the back even looks a bit incomplete. But it does signify the beginning of a new trend in French banknotes. It blends the allegorical characters seen on previous banknotes with actual historical figures (Ampere and Pasteur in this case) and working trades, a theme which would continue in France's banknotes.
France


F.3.12 (SCWPM P.72d)

5 Francs, Violet

Imp BdF
Sig. 3, 5/8/1928


Duval, G. (F), Walhain, C. (B) INV
Romagnol, C. (F), Deloche, E. (B) SC


France


F.4.15 (SCWPM P.83)

5 Francs, Violet

Imp BdF: Modified, signature changed to "Le Caissier Général"
Sig. 4, 11/28/1940


Duval, G. (F), Walhain, C. (B) INV
Romagnol, C. (F), Deloche, E. (B) SC


France


F.38.46 (SCWPM P.90c)

1000 Francs, Ceres and Mercury

Imp BdF: Type of 1927, Modified, signature changed to "Le Caissier Général"
Sig. 12, 4/18/1940


Walhain, C. FEC
Deloche, E. SC


French Indochina


P.48b (Muz M.141a)

1 Piastre, Marianne

Imp BdF
ND (1927-31)


Walhain, C. FEC
Deloche, E. SC


French Somaliland


P.11

5 Francs, Marianne w/ Free French overprint

Imp BdF
1/1/1943


Walhain, C. FEC
Deloche, E. SC


Morocco


P.23Ab (BNB BEM B5b)

5 Francs,


Sig. 7, 11/14/1941


Walhain, C. FEC
Gaspé, E. SC


New Caledonia


P.36b

5 Francs, Marianne

Imp BdF
ND (1926)


Walhain, C. (F), Roque (B) FEC
Deloche, E. (F), Rita (B) SC