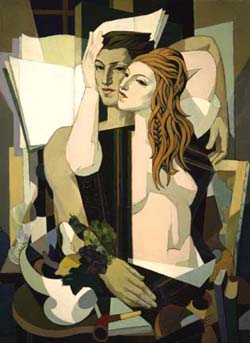 Clément Serveau
Clément Serveau (Paris 10e, 29 June 1886 – Paris 8e, 8 July 1972) was a French painter, designer, engraver, and illustrator.
Biography
Serveau trained first at the National School of Decorative Arts then the École Nationale Supérieure des Beaux-Arts in Paris from 1904 to 1914. He started in 1905 at the Salon des Independents and participated in the French Salon des Artistes, the Salon d'Automne, the Salon des Tuileries. In 1907-1909 he was in the military in the 15th Battalion of Chasseurs à Pieds dans les Vosges in Remiremont. He enrolled in the Municipal Drawing School headed by Mr. Rondot. At the distribution of prizes in July 1908, he was unrivalled. Similarly in July 29 1909. Among the members of the jury is the architect Charles Hindermeyer. Serveau and Miss Yvette Hindermeyer married in 1913 in Remiremont. Thereafter, his visits are frequent in Remiremont there made numerous paintings, landscapes and portraits.
As the Artistic Director Ferenczi editions since 1919, he illustrated, using the technique of wood burning, many books (seventy-eight) of the modern illustrated book. Colette was the literary manager for several years. It is also about thirty other books. Medal of Honor in 1920, bronze 1921, silver in 1926 and gold in 1929. For memorials designed by his father Charles in the region Hindermeyer Remiremont he created boxes for mosaics: The Union in 1923, Ventron in 1923, Venice enamel executed Moro-Lin, Rupt-sur-Moselle in 1923 by brothers Mauméjean, mosaic in Paris, and La Bresse in 1923, exhibited at the Salon the same year, also directed by the brothers Mauméjean. With his master Luc-Olivier Merson, he created designs for banknotes. He designed or engraved forty-two French or foreign postage stamps from 1956 to 1970. In September 1933 he remarried in Paris 9th with Sara Sophie Wisoume (born in Smolensk in January 1903).
After a trip to Greece in 1934, Clement Serveau engaged in post-Cubism. He has participated in numerous exhibitions including the Salon des Artistes french and was appointed Chevalier de la Legion d'honneur in 1936. It is also a large number of paintings including a six-meter three Meaux High School, where he was student. He directs the School of frescoes from the École nationale supérieure des beaux-arts, decorates the tourism pavilion at the Exposition Universelle of 1937. He participates in many art exhibitions french (Sweden, London, United States, Canada ... where every time he makes and sells the works. Clement Serveau died in Paris on 8 July 1972, he was buried in the cemetery of Bourbonne-les-Bains where he owned a house Street Vellone. A room of the local museum is dedicated to him.
Algeria


P.77b (Muszynski M.3)

5 Francs, Muslim girl, veiled Algerian woman at Port d'Algers

Imp BdF: Without serial number
9/10/1941


Serveau, C. INV
Deloche, E. (F), Rita (B) SC


Algeria


P.94b (Muszynski M.5b)

5 Francs, Muslim girl, veiled Algerian woman at Port d'Algers

10/2/1944


Serveau, C. INV
Deloche, E. (F), Rita (B) SC


Serveau, C. FEC
Poilliot, G. (F), Régnier, G. (B) SC


Comoros


P.4b (Leclerc LK.908, BNB BMC B3b)

500 Francs, Man and Fruit

Imp BdF
Sig. 3, ND (1963)


Serveau, C. (F), Serveau, C. (B) FEC
Armanelli, R. (F), Marliat, A. (B) SC


France


F.5.7 (SCWPM P.98b)

5 Francs, Shepherd

Imp BdF: This is the smallest banknote issued by Banque de France
Sig. 5, 10/30/1947


Serveau, C. INV


France


F.12.12 (SCWPM P.92b)

20 Francs, Science and Labor

Imp BdF
Sig. 4, 2/20/1941


Serveau, C. INV
Deloche, E. SC


France


F.29.1 (SCWPM P.87a)

300 Francs, Ceres and Mercury

Imp BdF: This is the only BdF note with no printed date
Sig. 4, 10/6/1938- 2/9/1939


Serveau, C. INV


France


F.35.3 (SCWPM P.133a)

500 Francs, Victor Hugo

Imp BdF: New series of smaller notes from BdF
Sig. 11, 9/2/1954


Serveau, C. INV
Piel, J. SC


Serveau, C. INV


France


F.42.22 (SCWPM P.134a)

1000 Francs, Richelieu

Imp BdF
Sig. 12, 10/4/1956


Serveau, C. INV
Piel, J. SC


France


F.47.59 (SCWPM P.103e)

5000 Francs, Empire Française

Imp BdF
Sig. 15, 3/20/1947


Serveau, C. INV
Dreyfus, R. (F), Beltrand, C. (B) SC


France


F.51.13 (SCWPM P.136b)

10,000 Francs, Bonaparte

Imp BdF
Sig. 14, 10/2/1958


Serveau, C. INV
Piel, J. (F), Beltrand, C. (B) SC


France


F.56.5 (SCWPM P.141a)

5 NF, Victor Hugo

Imp BdF
2/4/1960


Serveau, C. INV


France


F.57.19 (SCWPM P.142a)

10 NF, Richelieu

Imp BdF
6/7/1962


Serveau, C. INV


French Somaliland


P.7A

20 Francs, Woman, Peacock, Butterflies

Imp BdF: Earliest microprinting I've found on French notes
ND (1941)


Serveau, C. (F), Roque (B) FEC
Deloche, E. (F), Rita (B) SC


French West Africa


P.46 (BNB IDE B3b)

100 Francs, Woman with Braids

Imp BdF
5/20/1957


Serveau, C. FEC
Beltrand, C. (F), Baudier (B) SC


Lebanon


P.48a

1 Livre, Multicolor, Cyprus and Antelopes

Imp BdF
12/1/1945


Serveau, C. FEC
Deloche SC


Madagascar


P.61 (BNB IEM B11a)

50 Francs, Betsileo Woman and Man


Sig. 4, ND (1969)


Serveau, C. FEC
Poilliot, G. (F), Régnier, G. (B) SC


New Caledonia


P.37b

20 Francs, Woman, Peacock, Butterflies

Imp BdF
ND (1929)


Serveau, C. FEC
Deloche, E. SC


Reunion


P.54b

10NF/500Francs , Pointe-à-Pitre, Martinique and Guadeloupe Women, Transporting Sugar Cane by Ox

Imp BdF
ND (1971)


Serveau, C. FEC
Beltrand, G. (F), Hourriez (B) SC


Romania


P.53

2000 Lei, Woman and Child, Oil Refinery

Imp BdF
11/19/1941


Serveau, C. FEC
Rita (F), Gaspé, E. (B) SC


Tunisia


P.8b

5 Francs, Muslim girl, veiled Algerian woman at Port d'Algers

Imp BdF
1/27/1941


Serveau, C. INV
Deloche, E. (F), Rita (B) SC


Tunisia


P.15

5 Francs, Muslim girl, veiled Algerian woman at Port d'Algers

2/8/1944


Serveau, C. INV
Deloche, E. (F), Rita (B) SC


Uruguay


P.17a

1 Peso, Helmeted Woman, Indians, Sailboat

Imp BdF
7/18/1930


Serveau, C. FEC
Hourriez, G. (F), Gaspé, E. (B) SC
Laurent, S. DEL


West African States


P.2a

100 Francs, Woman with Braids

Imp BdF: Intaglio
4/23/1959


Serveau, C. FEC
Beltrand, C. (F), Baudier (B) SC


West African States


P.701Kb

100 Francs, African Woman and Village

Imp BdF: Intaglio
3/20/1961


Serveau, C. FEC
Beltrand, C. (F), Baudier (B) SC


West African States


P.103Am

1000 Francs, Africans, Rope Bridge

Imp BdF: Litho
ND (1959-65)


Serveau, C. FEC
Beltrand, C. (F), Baudier (B) SC


West African States


P.104Ah

5000 Francs, Modern and Traditional Palm Oil Manufacturing

Imp BdF
ND (1961-65)


Munier, P. (F), Serveau, C. (B) FEC
Beltrand, C. (F), Baudier (B) SC


Yugoslavia


P.25

10 Dinares,

Imp BdF
5/26/1926


Serveau, C. FEC
Deloche, E. SC