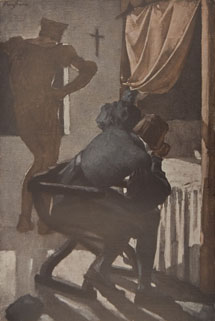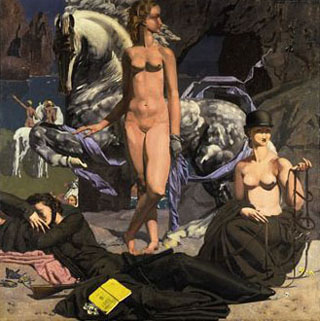 Robert Poughéon
Eugène Robert Pougheon (Paris 1886-1955) studied under Jean-Paul Laurens and Albert Besnard at the Ecole des Beaux-Arts in Paris and under Charles Lameire at the Ecole des Arts Décoratifs. He was closely associated throughout his life not only with Jean Dupas, but also with other well known artists of the Bordeaux school - René Buthaud, Jean Gabriel Domergue, Raphael Delorme, Jean Despujols and Alfred Janniot. In 1914 Pougheon won the Prix de Rome and in 1927, he was awarded the silver medal at the Paris Salon, following this two years later with a gold medal. In 1935 he started teaching at the Ecole des Beaux-Arts, was made director of the Villa Médicis in 1942 and later became curator of the Musée Jacquemart-André.
It was during his stay in Italy at the Villa Médicis after winning the Prix de Rome that Pougheon's work became more stylized and geometric, his nudes achieving a post-cubist sculptural monumentality akin to that of Tamara de Lempicka. While Lempicka's powerful women are often characterized by decorative references to technological advances of the era however, Pougheon's Amazones are more rooted in classical antecedents, his composition and landscape betraying the influence of Puvis de Chavannes. Like Dupas' women in Les perruches, Pougheon's Amazones are at the cutting edge of the Art Deco movement, their solidity and monumentality providing a firm contrast to the movement and transience of the natural world surrounding them.
Poughéon also illustrated books as well as providing artwork for banknotes in the French community. The images shown above are "Amazones", painted in 1926, and a plate from an edition of Goethe's Faust.
Algeria


P.106 (Muszynski M.38b)

500 Francs, Bacchus and Ram, Harvesting Grapes

5/22/1956


Poughéon, R. FEC
Armanelli (F), Beltrand, C. (B) SC


Algeria


P.122a (BNB BCA B1a)

5 Dinars, Vulture & Eagle, Sheepherder

1/1/1964


Poughéon, R. FEC


Algeria


P.123a (BNB BCA B2a)

10 Dinars, Storks, Algerians Weaving a Carpet

1/1/1964


Poughéon, R. FEC


Algeria


P.124a (BNB BCA B3a)

50 Dinars, Mountain Sheep, Camel Caravan

1/1/1964


Poughéon, R. FEC


France


F.20.17 (SCWPM P.127c)

50 Francs, Le Verrier

Imp BdF
Sig. 6, 2/1/1951


Poughéon, R. INV


France


F.28.37 (SCWPM P.128d)

100 Francs, Young Farmer with Oxen

Imp BdF
Sig. 8, 6/4/1953


Poughéon, R. INV


France


F.34.5 (SCWPM P.129a)

500 Francs, Chateaubriand

Imp BdF
Sig. 10, 3/28/1946


Poughéon, R. INV
Marliat, A.+Armanelli, R. SC


French Afars and Issas


P.32s (Kolsky 663, BNB TP B3as)

1000 Francs, Woman Holding Jug

Specimen
Imp BdF
ND (1974)


Poughéon, R. FEC
Marliat, A. (F), Armaneli, R. (B) SC


French Antilles


P.3s (BNB IEDOM B3as2)

50 NF, Woman with Fruit Bowl, Sugar Cane Harvest

Specimen
Imp BdF
ND (1961)


Poughéon, R. INV


Poughéon, R. INV
Marliat, A. (F), Renaud (B) SC


French Somaliland


P.19

10 Francs, Camel caravan

Imp BdF
ND (1946)


Poughéon, R. FEC
Régnier, G. (F), Chapon, A. (B) SC


Reunion


P.55b

20NF/1000Francs , Union Française

Imp BdF
ND (1971)


Poughéon, R. (F), Fel, W. (B) FEC
Hourriez (F), Armanelli, R. (B) SC


Poughéon, R. FEC
Piel, J. (F), Marliat, A. (B) SC


Poughéon, R. FEC
Broutin (F), Beltrand, C. (B) SC


Poughéon, R. FEC
Hourriez (F), Armanelli, R. (B) SC